It's Stoptober until Sunday translation missing: es.number.nth.ordinalized November
Getting around Givey
Givey makes it simple to access information for all of your accounts. Whether they be personal accounts or accounts for your Causes of Fundraisers.
Your accounts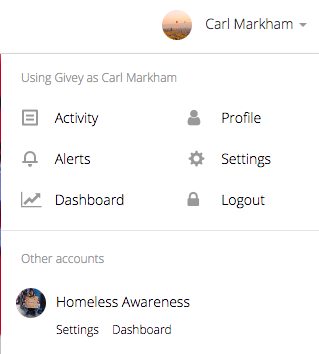 When you log in to Givey, you are using your personal account. This is the account you use to donate to other causes.
If you have a Fundraiser or Charity on Givey, you can click the drop down at the top to get access to all of your other accounts.
Clicking on the account means you are now using Givey as that account. From now on, all links you click (Settings, Dashboard etc) will take you to the page associated with the account you are using.
You can also click on Settings or Dashboard links under the account to quickly jump to that section.
Getting personal again
If you want to go back to using your personal account, you will find a handy link at the bottom of the page.

Explore and Search

Explore a list of causes and Fundraisers
You can also search for any cause or fundraiser and jump directly to their page on Givey